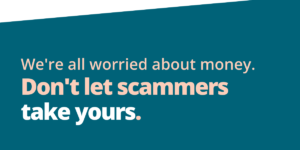 Our annual Scams Awareness campaign aims to create a network of confident, alert consumers who know what to do when they spot a scam. This year's campaign will take place 13 – 26 June.
If you're looking for advice and support on scams please visit our online advice pages.
Your efforts during the Scams Awareness campaign are important, whether you're an individual consumer looking to protect yourself and your family from scams, or an organisation or group representing consumers.
Help us spread the message that scams are crimes that can happen to anyone and that we can all take a stand to help stop them. There are actions we can all take to report them, share stories and raise awareness of scams to safeguard ourselves and others.
What can people do?
Stop

and get advice from Citizens Advice. Go to

our website

or you can speak to us on the phone. Call our Scams Action at 0808 250 5050 or consumer service at 0808 223 1133.

Report scams

to Action Fraud on 0300 123 2040 or @actionfrauduk on Twitter.

Talk with friends, family and neighbours

about scams they've experienced.
We're all worried about money – don't let scammers take yours. Be #ScamAware. Stop, report, talk. Visit citizensadvice.org.uk/sa22/ to find out more.